Note: This blog post is part of a series centered around the topic of high availability in Azure:
I'll not be addressing scaling (horizontal or vertical), backups/restores and resiliency/healing in these posts. Each of those topics deserve their own series, perhaps I'll write about them in the future if time permits.
---
# Azure Availability Zones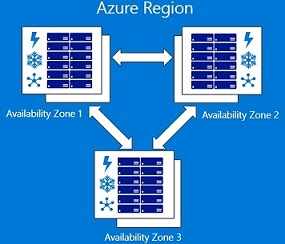 In the opening post of this blog series we talked about availability zones and how resources can be classified as zone-redundant, zonal (zone-specific) or non-zonal (regional). If you haven't seen that post, please take a minute to do so.
Availability zones exist to shield your resources against a datacenter-level disaster.
As of the time of writing this blog post, only a few Azure regions support availability zones (opens new window).
Availability zones are free (you're only charged for the VMs and resources placed in the availability zones).
# Supported Azure Resources
Only a few Azure resource types support availability zones (we're highlighting a couple of important ones below. The complete list is available here (opens new window)).
# Availability Sets vs Availability Zones

(opens new window)
# Caveats, restrictions, gotchas & tidbits